Everyone dreams for clean and shiny carpet and rugs in the home as it adds freshness and style. However, unwanted stains are very common and disappointing, which can ruin the appearance of your carpets.
Stains like coffee, wine, and food spills on the carpet are common in every household. People often hide the stubborn stains on the carpets when they failed to clean them completely. You can't always protect the carpet from stains, but you can minimize the damage by following the right cleaning method.
Every type of stain requires some specific cleaning treatment to remove the stain completely and keep your carpet clean and shiny.
Besides using effective cleaning reagents, you also need to learn about the different types of stains and the best methods to treat them. Moreover, using some quick techniques will also help you in getting rid of stains completely.
It will allow you to use the reagents effectively and get your carpets cleaned without causing any damage.
So, here we have mentioned the top 10 stain removal tips for carpets and rugs that you should follow for the best results.
Act quickly:
The fresh stains are easier to remove than dry and old stains. This is why you should always act quickly whenever you notice a stain on your carpets and rugs. Firstly, you should prevent possible damage by drying or soaking liquid.
It will allow you to limit the damage due to stains. Wash your carpet and rug immediately after the drink and food spill. The immediate action will lighten the stain and make it easier to remove it completely.
Follow the direction:
The stain removal products work magically on the stains and allow people to get a clean and shiny carpet within a few minutes. However, it is important to follow the cleaning method religiously to get desired results and avoid unwanted damages as well.
Follow the directions for using cleaning products. Every reagent works differently on the stains. So, stick with the directions that are printed on the product to get satisfying results.
Test in a hidden area:
Are you using a DIV for removing stains from carpets? You will hundreds of DIYs on the internet for removing different stains. It allows people to get rid of stains using kitchen materials including baking soda, lemon and detergent, and more.
However, before using any DIY for stain removal, take a test on the hidden side of your carpet. Sometimes, DIY doesn't work and causes irreversible damage to the carpet. So, it is better to test the formula to prevent unwanted damages and protect your precious carpets and rugs.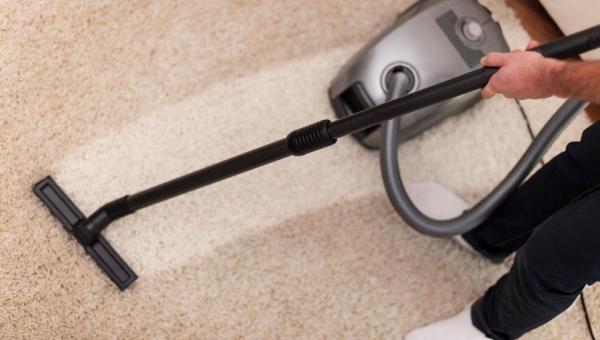 Remove stain from the back:
Some stains are hard to remove and you have to apply strong reagents and techniques to get rid of them. If you want to avoid potential damages, then place the stained carpet or rug with the stain upside down and remove the stain from the back.
You can simply apply the cleaning products on the back of the carpet and rug, which will help you in removing stains easily and safely.
Be careful with the cleaning solvents:
The market offers a wide range of cleaning solvents, which ensure 100% stain removal. The cleaning products work excellently on tough stains like coffee and wine stains and restore the beauty of the carpet within a short time.
However, you have to be careful with the cleaning solvents as they include some harsh chemicals, which can cause damage to your carpet. You should follow the directions carefully and wash your carpets properly to remove the cleaning solvents completely.
Be wary of color removal with bleach:
Bleaching is one of the easiest and effective methods of removing stains from any garment. People use bleach to even out the stains on carpets and rugs. However, it will never work well with colorful carpets and rugs and result in uneven color removal as well.
If you are planning to use bleach to remove stains, then, pick bleach carefully that is specially prepared for colorful carpets and rugs. So, you can get the best results.
Don't mix stain removal product:
People often mix the different ingredients with cleaning products to clean the tough stains effortlessly. You will also find some DIYs, which suggest mixing cleaning products with strong ingredients like lemon, soda, and orange juice as well.
However, mixing two ingredients with cleaning products may result in serious damage. The cleaning products contain strong chemicals to remove stains. So, you don't need to mix anything to make them work.
Wash stain treated items:
The proper cleaning of carpets and rugs is a must to maintain the quality and appearance. Whether you are performing spot treatment or complete cleaning of carpet for stain removal, you have to wash the carpet properly to get rid of product and stain residue.
The proper washing of carpets will remove the stain and product residue and add shine to your carpets and rugs.
Be patient:
Stain treatment always requires a good time. If you are working on stain removal, then it can take a few hours to remove the stain completely. Plus, you may also have to repeat the same cleaning process multiple times to get the best results.
So, you have to be patient while working with stain removal. Check the carpet and rug properly before drying to determine that it requires repeat cleaning or not.
Some stains require professionals:
Undoubtedly, you will find some amazing cleaning products in the supermarket and learn cleaning techniques through the internet. However, sometimes it becomes impossible to remove stains from carpets and rugs.
Some stains are stronger and harder to clean using basic cleaning techniques. In such cases, you have to hire professional carpet cleaners. The professionals have advanced tools and cleaning methods, which will clean your carpets completely and restore the beauty.
So, never hesitate to call an expert when you are not able to deal with stains.